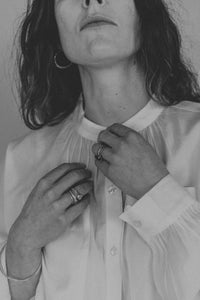 Our Story
Koryphae was launched in Portland, OR in 2022 by Daniela Caine with the intention to create pieces made to the highest ethical and sustainability standards possible.
A vision based on the idea of harnessing the power of apparel, using it as a vehicle for women's empowerment and force for good in the world.
We only use naturally bio-degradable materials, predominantly woven on handlooms that create fabrics with inherently higher frequencies which support our well-being.
Each garment has a reason for being and we are holding ourselves to the principle of "Less is More". This creates more space for what truly matters.
Each garment is designed with an eye for versatility, wearability, longevity, comfort, and style and informed by west-coast casual influences and Bauhaus minimalist roots.
Buy now
Meaning of Koryphae
Koryphae comes from ancient Greek and means Expert, Genius, Luminary, Mastermind. In the German speaking world it describes someone who has achieved mastery in their field.
Mastery requires dedication and care. Our partners revere what they do and pour their love into it.
And the ultimate mastery? It's the final frontier: Mastering oneself.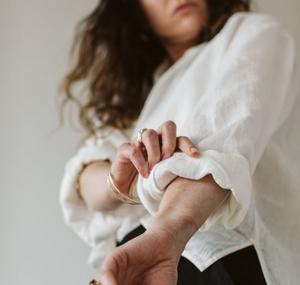 Our Materials
We are designing our clothing with intention and care and prioritize natural, recycled, and organic fibers. We don't use petroleum-derived synthetics, fur, or wool from mulesed sheep. We design with the end in mind, meaning that once our garments are no longer in the wear cycle, they will bio-degrade with a few small adjustments, e.g removing zippers or elastics.
The majority of our fabrics are woven on hand-looms by artisan communities preserving indigenous traditions and skills handed down for generations.
By choosing hand-loomed materials woven without machines and electricity, we keep our CO2 footprint as small as possible.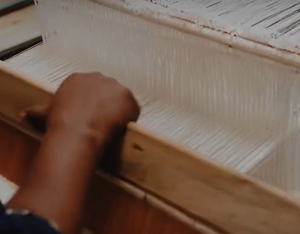 Linen
Made from the Flax plant, Linen is a sustainable fiber and a cornerstone of the brand. Flax is usually grown without the use of pesticides and herbicides and requires far less water than cotton to grow, and far less energy than polyester to produce. Linen is a luxury fiber that can easily transition between seasons. It is thermoregulating and gets softer with each wash and wear. Linen is also one of the fibers with the highest frequencies - 5000- and can therefore aid in the wearer's wellbeing.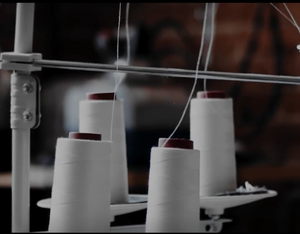 Cotton + org. Cotton
We choose both, certified organic cotton and traditionally grown cotton. Our partners in India work with small farmers who are using traditional cotton growing methods without the use of pesticides or herbicides and very little water as they are working with pests and herbs to cultivate biodiverse, nutrient-rich soil. Some farmers choose to pay for certifications, some don't.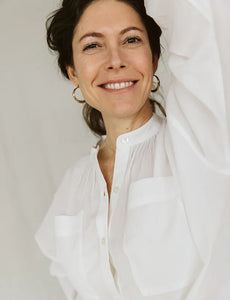 It's not about having less. It's about making space for what matters.
Daniela Caine, Founder & CEO
Citrus Fashions
Located in Kolkata in West Bengal, this family-owned boutique production house is committed to preserving local artisan hand-loom traditions, invigorating handwoven Khadi cotton and investing in their employees and infrastructure to ensure fair wages. They also sell their in-house label Benaras by Citrus which you can find here. 
Saheli Women
Saheli Women is an ethical fashion social enterprise branching from the Institute for Philanthropy and Humanitarian Development IPHD's Livelihood program focused on the village of Bhikamkor where they produce clothing for fashion partners who aim to create unique designs and spread awareness of ethical fashion around the world.  Each woman sews the entire garment and each garment comes with a drawing of the seamstress who made it. You can learn more about their efforts here.
Sonica Sarna
Founded by apparel industry veteran Sonica Sarna, the company bridges the space of ethical production, women's empowerment, artisanal & organic material sourcing, and education. Sonica Sarna offers a transparent, customizable, and ethical hybrid supply chain that combines in-house factory production with a network of over 40 artisan partners and 30 textile mills. She is also the founder of #projectthrive, an initiative that teaches women from the slums of New Delhi garment making skills and employs them with fair wages. You can learn more about Sonica Sarna and her offering here.
Initiatives
Creating a sustainable apparel line isn't perfect we are taking steps and efforts to improve our impact. These are the areas of improvements in the next 2 years:
1. Packaging.
We are working with our vendor partners to source bio-degradeable poly bags.
2. Offset Shipping.
We are working with our forwarding partners on ways to offset shipping emissions.

Most important of all is to go and visit our partners in India. Since Koryphae was conceived and launched during the Pandemic, we have not had the opportunity to meet with our vendor base in person.