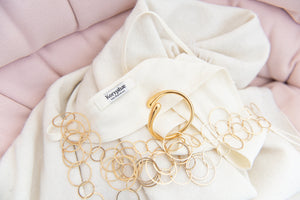 Koryphae Affiliates
Sustainable Style, Sustainable Earnings: Be a Part of the Movement!
Koryphae Affiliates
Sustainable Style, Sustainable Earnings: Be a Part of the Movement!
At Koryphae, we're committed to making a positive impact on the world through conscious fashion. We believe that real change begins with collective action, and that's where you come in! Our affiliate program offers you the opportunity to join the conscious fashion movement, promote Koryphae, and even earn money while doing so.
Here's how it all works:
1. Sign Up as a Koryphae Affiliate:
Joining our affiliate program is easy and free. You can apply through our website, and once approved, you'll get access to your personalized affiliate dashboard.
2. Access Your Affiliate Dashboard:
Inside your dashboard, you'll find marketing materials, unique affiliate links, and all the tools you need to get started. We provide banners, product images, and promotional content to make your job easier.
3. Promote Koryphae:
Share your unique affiliate links and Koryphae content through your social media channels, blog, website, or email newsletters. Create engaging and authentic content that showcases our conscious fashion products, values, and mission.
4. Attract Customers:
When someone clicks on your affiliate link and makes a purchase on our website, you earn a commission on the sale. Your followers and audience will receive a 10% discount when they use your link, making it a win-win for everyone.
5. Free Product Rewards:
As a Koryphae affiliate, we value your commitment to promoting sustainability. After a certain number of successful referrals, you will qualify for a free Koryphae product of your choice. This is our way of saying thank you for your dedication to our mission.
6. Monetize with Koryphae:
Earn competitive commissions on every sale you drive to our store. The more you promote, the more you earn. Payments are made monthly through PayPal or bank transfer.
7. Exclusive Content and Updates:
As a Koryphae affiliate, you'll be the first to know about our new collections, conscious initiatives, and exclusive promotions. This gives you an edge when creating content and engaging your audience.
8. Support and Resources:
We are a mighty micro team and we are here for you if you have questions about the program or need assistance with content creation, we're just an email or message away.
9. Join the Conscious Fashion Movement:
By becoming a Koryphae affiliate, you're not just promoting products; you're championing a cause. You're contributing to the global movement towards sustainability and ethical fashion, making the world a better place for future generations.Join us in making conscious fashion the new norm. Apply now and start your journey as a Koryphae affiliate. Together, we can create a more eco-conscious and stylish world, one commission at a time. Join the movement, promote Koryphae, and monetize with Koryphae today!